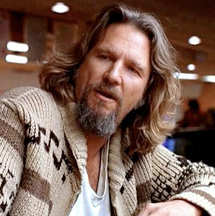 Nick Schager, in a review of Crazy Heart which registers the magnetic
charm of the Jeff Bridges's character, calls Bad Blake, Bridges's
character, "a jalopy of a man," a "dilapidated has-been." Andrew
O'Hehir, writing about The Big Lebowski in Salon in 1998 calls the Dude,
played by Jeff Bridges, "our addled Philip Marlowe figure, toking herb,
swilling White Russians and, truth to tell, looking increasingly heroic
relative to the dysfunctional world around him." I agreed with that:
relative to the frame, a hero. Stuart Klawans, writing in The Nation,
thought the film itself was the empty frame. (March 30, 1998) Time
proved him wrong as in subsequent years the film became a cult classic
and admirers found enough in this "empty frame" to launch A Year's Work
in Lebowski Studies and publish The Lebowski Reader.